Welcome to SeekingSitters
Fort Collins
Local Contact: 918.749.3588
24 hour contact: 1(888)41 SITTER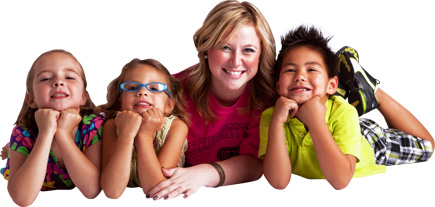 Client Testimonials
I couldn't be happier with your services, Each sitter we have used has been amazing!
Jessica P.,Fort Collins, CO
Thanks for setting us up so quickly with a last minute notice. It really helped us out in a pinch and we're going to book again for this weekend.
Melina D.,Fort Collins
Wow! This review is long overdue. I love this service! I have been using Seeking Sitters for my 3 daughters for the last 5 years and they have never disappointed. The system is so convenient for finding last minute sitters and planning in advance. They do all the work for you to make sure that you are provided with a fun, safe, and experienced sitter. They are time savers ( and sanity savers too)! My girls are usually very excited when they hear they are getting a babysitter:)) The sitters are very engaged and play great with my girls. If the kids are happy, mom is happy. I was grateful to find this service 5 years ago and will continue to remain a loyal customer in the years to come!
Emily M,Fort Collins, CO
I want you to know I really appreciate Seeking Sitters. It is so helpful for businesses like ours where you do not need a sitter consistently, but when you do they need to be extremely reliable. It has been so helpful to us!!
Carlene P,Fort Collins
Thank you so much for your service! To have the amazing sitters you do available to us is awesome, and I really appreciate it. It gives me great peace of mind to know that my boys will survive no matter what sitter comes. Thanks!
Sarah W.,Fort Collins
I just wanted to take a minute to thank you for setting us up with our sitter! She is so great and has made the transition for us very easy. She is such a sweet girl and I know our daughter is having fun with her (despite some separation tears when I had to leave early a few days).
Jennifer G.,Fort Collins
Things went very well. The sitter engaged our daughter right away which really made it easy for us to leave. The sitter made and brought chalk paint which I'm sure our daughter loved. Our daughter was put to bed right on time and our usual routine was followed. It seemed as though everything went smoothly. I loved the payment process and look forward to using the service again soon!
Robin L.,Fort Collins
We sincerely appreciate your service. It has been a huge convenience in our life and I don't know what we would do without you! Thank you so much!
Amber Allen,Fort Collins
Everyone asked how I lined our sitter up, I couldn't wait to share your company information. I won't hesitate to recommend you to anyone :-) Thanks again!
Laura Nilstoft,Fort Collins, CO
SeekingSitters has been the best baby sitting experience we've ever had. Not only are my kids well taken care of by a caring staff, they always receive an enriching experience as well. Each sitter has been friendly, prompt and professional to work with. I know our kids are SAFE and we'd recommend SeekingSitters to any one now and in the future.
Greg Hoffman,Fort Collins
Thank you! Everyone has been reliable and kind and has helped me a lot this summer!
Debbie Hamilton,Boulder, CO
I will continue to recommend your service to everyone I know.
Nea Sullivan,Longmont, CO
SeekingSitters has been a real life saver for us. We have an 8-year old child and no family living nearby to help take care of her when needed. Knowing that our child is in capable hands with a thoroughly screened and carefully chosen sitter is such a relief! When we use SeekingSitters, we know our child will have a wonderful time and be completely safe as well. Thank you SeekingSitters for coming into being!
Peggy Peters,Boulder, CO
I wanted to tell you how excited I am about your service. My husband plays Professional basketball overseas and is gone from September - April and sometimes I just need a break! I have two boys who I adore and don't want to leave with just anyone, and the other problem is I just don't know anyone! J My Best Friend told me to look you up. She saw you in a magazine and here we are! I signed up yesterday, I put my first request in today at 3pm and I already, only 5 hours later have a confirmed sitter for Saturday night! I am so excited to have found you and your service I was in dire need of a reliable network of sitters! WOW ! Thanks so much!
Stacey Sandlin,Erie, CO
The first time one of Ashley's sitters came to door, we were a little tentative, having always known our sitters on a very personal level. I can tell you that these young women are not just babysitting, they are the caretakers of the home when you are gone! She brought a bag of activities for them to play and immediately engaged Ellie doing something fun. When she walked out the door after we arrived home, our daughter was asleep, the play space was in order, the kitchen was clean of the dinner dishes, and we had a form with the times Ellie had eaten, gone to the bathroom, as well as an account of what their activities were while we were gone. We highly recommend Ashley's professional sitters!!
Tiffany Blackden,Fort Collins, Colorado
We have used SeekingSitters two times now and both times it's been great. It is so easy to sign onto the website, plan an event and know that we are going to get a wonderful caregiver for our two children. What a great service you provide and for us, who have no extended family in the area, you are a lifesaver! Without SeekingSitters, we wouldn't know who to trust with the welfare of our children. Our two boys have said that both experiences have been awesome! That is the true test of success with a sitter! Thanks for all of your help and we sure hope SeekingSitters is around for a very long time!
Christina Murphy,Fort Collins, Colorado
SeekingSitters is a great blessing. The sitters have been awesome. Thank you so much. A service like this has been needed for some time!
Carol Beard ,Loveland, Colorado
Thanks! It has been wonderful. All of the Sitters have been great and very professional. We love it. We have referred several friends.
Michelle Chaney,Fort Collins, Colorado